You guys. Seriously.
I cannot even explain to you how hilarious and awe-inspiring the entries for the
Craft Whores
contest were. I mean,
go take a look
.
The
lovely judges were judg-y
and came back with their choices. Thanks so much to
Jen
and
Kathy
and
Robin
for helping us out. You made the judging process so much more fun (and legitimate). Price Waterhouse has nothing on you bitches. We also want to take the time to
thank our generous sponsors
for their prizes and willingness to support such an "unorthodox" venture. Each click on the sponsors below is a vote for the awesomeness of inappropriate humor. (Listen up, big brands.)

The simply delightful
Leslie from The Bearded Iris
and I compiled the judges' votes and tabulated and came up with the
And these winners? ARE FUCKING SPECTACULAR.
Without further ado:
Best in Ho:
The Vagina Muses by Leigh Jackson / SassQueen Ceramics
They're so delicate and dirty!
Leigh wins the $100 WeShop gift certificate from
In the Powder Room
and my Craft Whores Cross Stitch. Leigh, you make my vagina sing.
Most Original:
Sex Ed Lamps by Marsha
I know what I want for a housewarming gift.
Marsha wins the $50
Eden Fantasys
gift certificate and
Carrie from UKnit2
's Vuvla Tissue box. Marsha, I want to hang out with you.
Most Anatomically Correct:
Brazilian Kitchen Twine Dispenser by Ellen @ Sisterhood of the Sensible Moms
Imagine all the vagina twine, living life in peace.
Ellen wins the $50 craft basket from
Funny not Slutty
and a
Queen Bee-otch
painting from
Cool Bees Artwork.
Ellen, let's start cooking, baby. [Photos of these prizes, since we didn't have them when we posted the prizes initially. Because we're that kind of efficient.]
Get crafting thanks to Funny not Slutty.
This lets them know who's boss.
Most Jizztastic:
Fifty Shades of Grey Ice Cream by Tracy @ LogyExpress
For real people. I can't stop looking at this.
Tracy wins the $25
Subversive Cross Stitch
gift certificate and the
Robin Plemmons
Viva La Deez Nuts
painting. Tracy, girl, we have GOT to have some ice cream.
Honorable Mentions:
Funniest Post:
Robyn @ Hollow Tree Ventures
wins the Hillblingy Goblet for her "Places We Did It" Scrapbook. LOVE THIS.
Most Practical in the Event of a Blizzard or if You are One of the Red Hot Chili Peppers:
Dearest Debi
wins the Vulva Candle Holder for The Average Joe Willy Warmer. It's like a matched set!
Honorable Mention:
Kelly and Nique
win the Breath Mother Fucker magnet for their Whip Me / Beat Me / Eat Me Aprons. Dinner time just got a little more exciting.
Honorable Mention:
Lady Estrogen
wins a Breath Mother Fucker magnet for her Vuvla Candle Holder. You know how to shine a light where it's needed.
Honorable Mention:
Sue @ Wub Boo Mummy
wins a Breath Mother Fucker magnet for her Leather Vulva Gear Knob Cover. I think even James Bond is jealous of the extras in your brother-in-law's car.
Leslie and I will be contacting the winners to get your information to send out prizes. YOU LUCKY BASTARDS.
Thanks to everyone who entered. Without your insanely creative minds, I wouldn't be having these inappropriate thoughts.
I cannot thank you enough for that.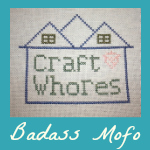 Now go get your own awesome badge
here
.
XOXOXOXO